About Dr. Gerald Chan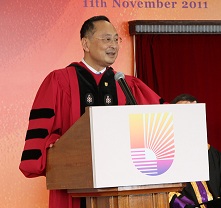 In 1987, Dr. Gerald Chan co-founded Morningside, a diversified investment group engaged in private equity and venture capital investments in North America, Asia and Europe. Morningside has been an active investor in China since 1992.
Dr. Chan chairs the boards of two Nasdaq listed biotech companies, Apellis Pharmaceuticals and Stealth BioTherapeutics and is a board member of privately held companies Apnimed, Matrivax and CollegeVine. He is a trustee of Scripps Research Institute in La Jolla, California, and a member of the Dean's Board of Advisors of the Harvard T.H. Chan School of Public Health. Dr. Chan also chaired the Innovation Advisory Committee of the Wellcome Trust in London and the Committee of Overseers of Morningside College of Chinese University of Hong Kong.
Dr. Chan received his BS and MS degrees in Engineering from UCLA, a Master of Science degree in Medical Radiological Physics, and a Doctor of Science degree in Radiation Biology from Harvard University. He completed his post-doctoral training in pathology at the Harvard Medical School and Dana-Farber Cancer Institute. He holds an honorary fellowship at Wolfson College of Oxford University and was elected to membership in the American Academy of Arts and Sciences. In 2019, he was Visiting Fellow at Trinity College, Cambridge University and gave the Andrew Carnegie Lecture in University of Glasgow.

陈乐宗博士简介
陈乐宗博士目前担任两家 Nasdaq 上市之生物科技公司 Apellis Pharmaceuticals 及 Stealth BioTherapeutics 的董事会主席, 亦是 Apnimed, Matrivax 及 CollegeVine 等创新公司的董事会成员。陈博士为推动科学进步及教育的发展不遗馀力,出任多家世界一流学术及教育机构顾问,除担任英国惠康基金会创新咨询委员会和香港中文大学晨兴书院院监会主席外,他还兼任斯克利普斯研究所理事,以及哈佛大学陈增煕公共卫生学院顾问委员会委员。
陈博士在加州大学洛杉矶分校获得工程学士及硕士学位,其后获得哈佛大学医学物理硕士及放射生物学理学博士学位,在哈佛大学医学院及丹娜法伯癌症研究所从事病理方向的博士后研究。陈博士被牛津大学沃弗森学院授予荣誉院士称号,并于2017年当选美国人文及科学院院士。2019年,陳博士應邀為英國格拉斯哥大學「安德魯·卡內基講座系列」作主題演講,並擔任劍橋大學三一學院訪問學人。